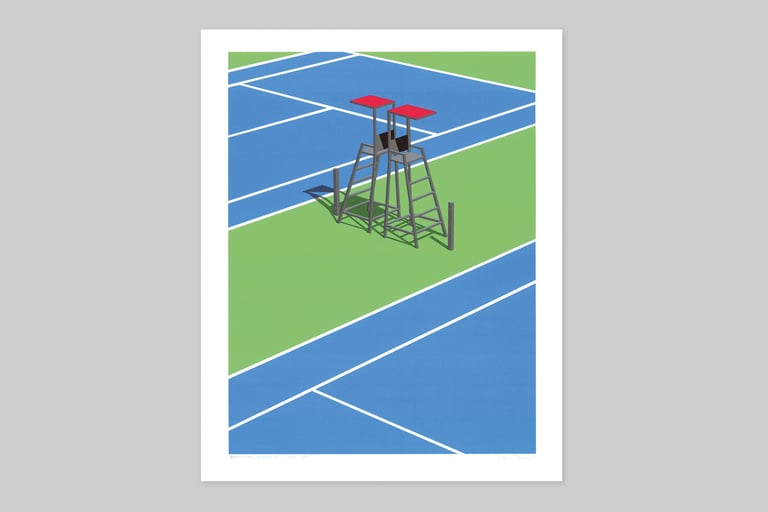 Daniel Rich — "Empty Courts, Queens, NY" Limited edition screenprint
Empty Courts, Queens, NY
Limited Print Edition
7-color screen print
300 gsm Munken Print White 15
50 x 40 cm / 19.69 x 15.75 inch
Edition of 50, signed and numbered
JB. Institute is pleased to present the release of a new limited print edition by Daniel Rich, published on the occasion of his solo exhibition (co)vertex at StudioTrouble™ Berlin.
Daniel Rich translates photographs into paintings that call attention to implicit political and social narratives transcribed in the built environment. This exhibition will be Rich's first solo presentation in Berlin and is accompanied by a limited edition screen print release in collaboration with JB. Institute.
The title of the exhibition – "(co)vertex" – is a combination of the adverb "covert" meaning not openly acknowledged or displayed, and the noun "vertex" meaning the highest point. Drawing on source imagery depicting opaque and moody building facades and empty spaces, Rich appropriates imagery sourced from news photographs and online sources that reference particular moments in history.
—
DANIEL RICH — (b. 1977 in Ulm, Germany) received his Bachelor of Fine Art degree in 2001 at the Atlanta College of Art in Atlanta, GA. He received his Master of Fine Art degree in 2004 at Tufts University in Medford, MA and the School of the Museum of Fine Arts in Boston, MA. He also studied at the Skowhegan School of Painting and Sculpture in Skowhegan, ME in 2004. Daniel lives and works in Berlin, Germany.
© 2020 Daniel Rich / JB. Institute
You can't order to your country? As international shipping prices and times are currently volatile, please ask for individual shipping options outside the EU. [email protected]