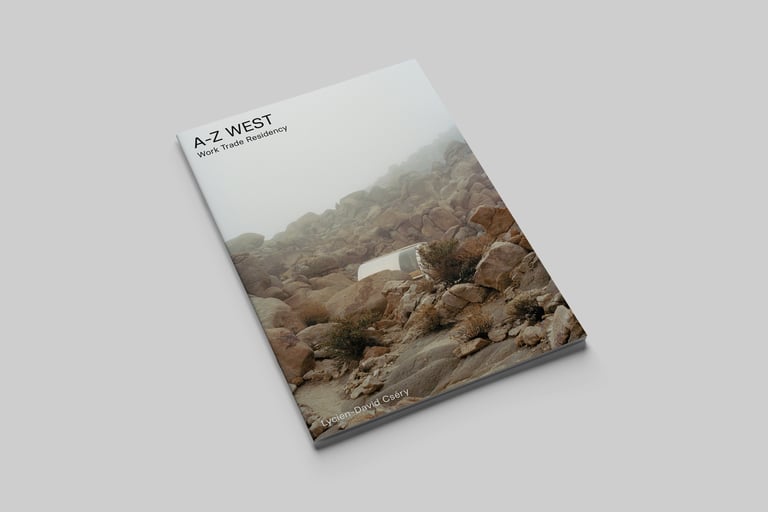 Lycien-David Cséry — A-Z West
"A-Z West"
Work Trade Residency
+ Special edition of 10 with glossy C-Print
Photozine
18 x 27 cm
28 Pages, saddle stiched
Digital Printing
Edition of 100
Special edition of 10 with glossy C-Print
22 x 15 cm
Edition of 10 + 3 A.P.
Signed and numbered by the artist
Release
July 16, 2021
If your country is not specified in the order, please write us an email and we can check individual shipping options.
About this Photozine:
What would be a better place to ask ourselves the big questions of life than in the desert? Questions about how one wants to live and what one actually needs to do so. The answers lie more in the small, in the details, in microscopic observation. What is life made of? What smells, colors, shapes, processes and functions make it up?
Lycien-David Cséry (*1985; lives and works in Buchenberg, Allgäu) thought about this in California's Mojave Desert. The artist Andrea Zittel has created a testing ground there, where visitors can explore these questions together. During the summer of 2016 and in the fall of 2018, Cséry made photographs that revolve around the theme. At times they appear rapturously fantastic, like the backdrop of an extremely aesthetic sci-fi film from the 1970s, at others so coolly futuristic, as if they come from a future we don't even know yet. On some you can hear the crackling of the wind in the dry bushes of the desert. The view from inside a house is set against the vastness of the desert and questions the concept of how and with what we have furnished ourselves in our lives. Again and again one sees the silver housing units that Zittel has placed like little UFOs in the rocky surroundings. It is the fractures that take on these details with the attention of a documentary filmmaker.
In this way, Cséry's work examines how the things of everyday life – its forms, colors, textures – spread out in life and how what surrounds people in their inconspicuous ordinariness affects them.
Published by JB. Institute, 2021
© Lycien-David Cséry / JB. Institute, 2021
You can't order to your country? As international shipping prices and times are currently volatile, please ask for individual shipping options outside the EU. [email protected]